Welcome to our monthly market update for the vibrant city of Visalia, CA. In this report, we'll delve into the key details that shape the local real estate market. From inventory levels to median sold prices, let's explore the latest statistics thru the end of April 2023.
Months of Inventory: With 1.08 months of inventory, Visalia continues to be a seller's market. The supply remains limited, driving competition among buyers and leading to faster-paced transactions.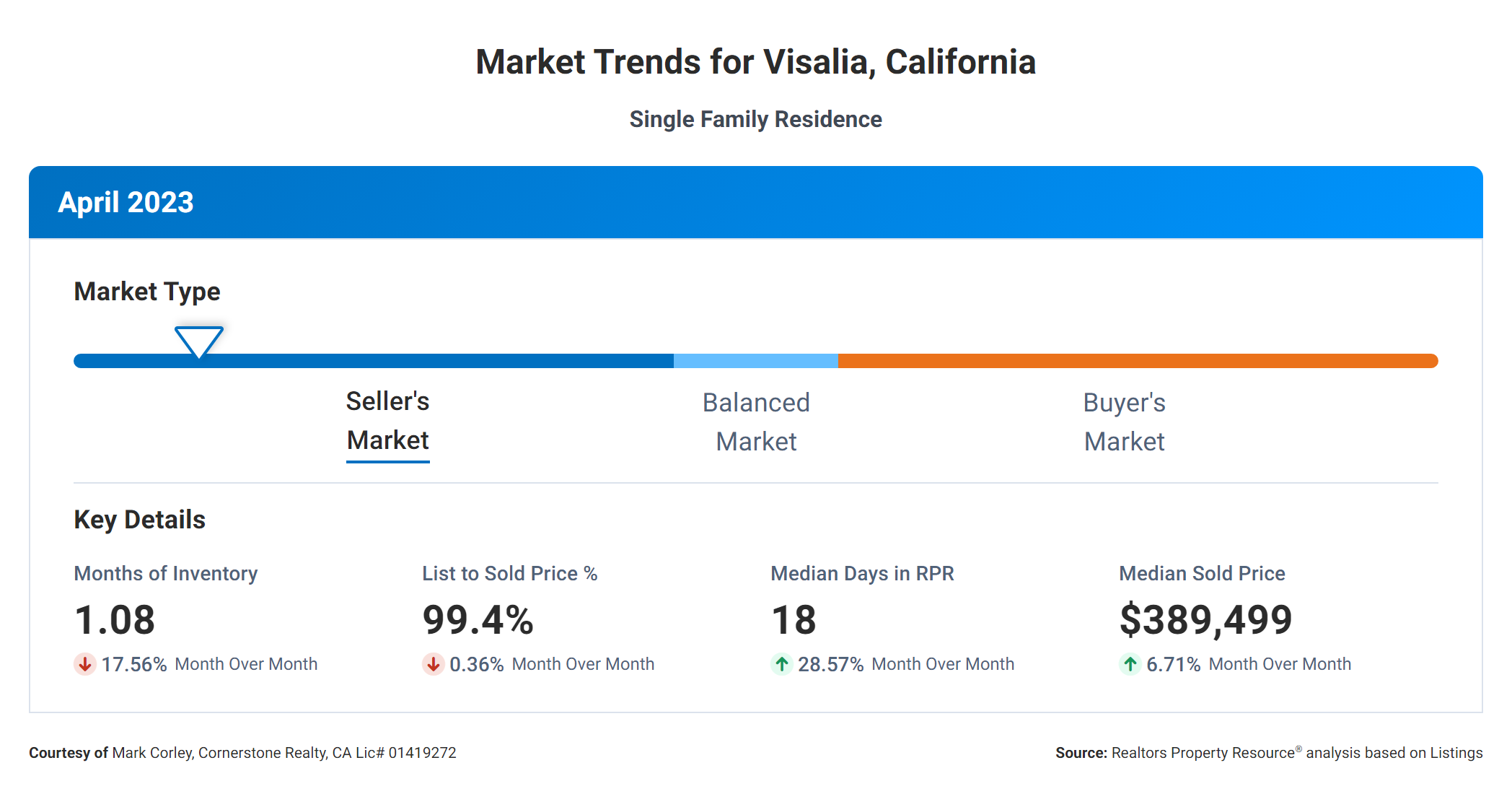 List to Sold Price %: Sellers in Visalia enjoyed a list to sold price ratio of 99.4%. This indicates that properties were selling close to their listed prices, offering favorable conditions for sellers to achieve their desired returns.
Median Days on Market: In April, the median days on market in Visalia decreased to 18, showcasing increased market activity and faster sales. Buyers need to act promptly to secure their dream homes in this dynamic market.
Median Sold Price: Visalia experienced a 6.71% month-over-month increase in the median sold price, reaching $389,499, which is only $10,000 less than the peak in June of 2022. This upward trend rebound reflects the strong demand and growing value of homes in the area. And we may be reaching new peaks in the near future.
Conclusion: As we conclude this market update for Visalia CA, it's evident that the local real estate market remains competitive and offers favorable conditions for sellers. Limited inventory, a high list to sold price ratio, reduced days on market, and increasing median sold prices all contribute to an active and robust market.

If you would like similar information on another city or town, or even specific neighborhoods, please reach out and I will pull that information and send it to you.
Whether you're looking to buy or sell a property, Mark Corley and our experienced team at Cornerstone Realty are ready to assist you. We have in-depth knowledge of the local market and can guide you through every step of the process. Reach out to us today to discuss your real estate goals and how we can help you achieve them at 559-429-5190 or email@MyCornerstoneRealty
**Disclaimer: All data presented is based on market information available at the time of writing. Market conditions may vary, and it is advisable to consult with a qualified real estate professional for the most up-to-date and accurate information.