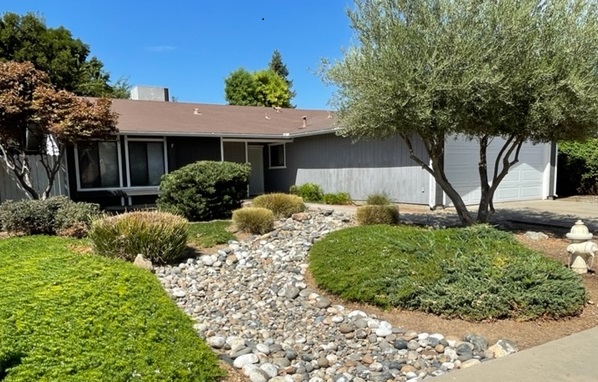 Introduction: Welcome to 602 N Quince in Exeter, a captivating residence that seamlessly blends sustainable living with timeless charm. This 3-bedroom, 2-bathroom home stands as a testament to pride of ownership and eco-friendly living, boasting not only a beautifully landscaped backyard but also owned solar panels that power your lifestyle and contribute to a greener future. With an ample 1,316 square feet of living space, this property promises comfort, beauty, and sustainable serenity.
A Solar-Powered Haven: Step inside and experience the warmth and natural light that fills the spacious living room. The home's ambiance exudes elegance, while the well-thought-out layout ensures seamless functionality.
An exceptional feature of this home is its owned solar system, harnessing the power of the sun to fuel your energy needs. Embrace the freedom of reduced utility bills while making a positive impact on the environment. Sustainable living has never been so stylish.
Lush Landscaping and Tranquil Retreat: Beyond the confines of the house, a meticulously landscaped backyard awaits—an enchanting oasis designed to captivate your senses. Meander through garden walkways, unwind on outdoor patios, and embrace the soothing embrace of nature. Here, you can entertain, relax, and relish in the beauty of your private paradise.
Timeless Charm, Modern Sustainability: Built in 1985, 602 N Quince carries with it a rich history of care and affection from its previous owners. Meticulous attention to detail is evident throughout, reflecting an unwavering commitment to pride of ownership. This home beautifully marries timeless charm with modern sustainability, creating a living space that harmonizes with both nature and comfort.
Your Invitation Awaits: As you explore this solar-powered oasis, you'll quickly understand why it's a must-see property. 602 N Quince embodies the essence of sustainable living, offering a harmonious blend of comfort, style, and eco-consciousness. Schedule a viewing today and envision the life that awaits you in this Exeter haven—a place where pride of ownership meets the power of the sun. Contact Mark Corley with Cornerstone Realty at 559-303-8618 or email@mycornerstonerealty.com to see it today!
For more information on the home, click here! https://www.flexmls.com/share/95HrI/602-N-Quince-Avenue-Exeter-CA-93221